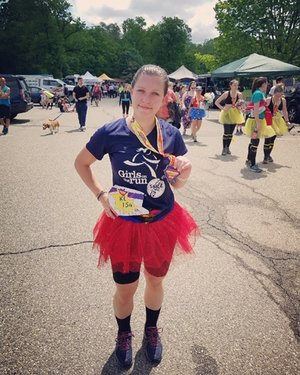 SoleMate Kelly joined our team for the 2019 New York City Half Marathon this March - and we're excited to shine a spotlight on her!
Thinking back to race day: what was your favorite part of the race?
The experience of running my first race through NYC. This was the first time I've ran in the city and being so close, (New Jersey) I cannot believe I have not run a NYC race sooner!
What were you thinking as you crossed the finish line?
How proud of myself I was. I pushed myself this race and finished with my best half marathon time to date.
Why did you choose to run this race for Girls on the Run NYC?
I wanted to see how I would do in a NYC race! It was much different than the races I have done. I also wanted to experience running in a race with thousands of other people. It was great seeing how many different people were there! I also wanted to support Girls on the Run and raise funds!
At Girls on the Run, we envision a world where every girl knows and activates her limitless potential and is free to boldly pursue her dreams. What does this vision mean to you?
Each girl should feel comfortable in her own skin. She should feel strong and know that she can take on anything that comes her way.
Congratulations and thank you, Kelly!